The Syndemic Roundtable: Opioids & Hepatitis C
In 2017, the Caring Ambassadors Program responded to the correlation between the opioid epidemic and rising HCV infections. New HCV infections rose 233% between 2010 and 2016, and it's estimated that 70% of new HCV infections are among people who inject drugs. The Caring Ambassadors recognized that the HCV and opioid syndemic represents a looming public health and economic threat to our country.
Based on this, and simultaneous inspiration from the book Dreamland, written by Sam Quinones, the Caring Ambassadors Program convened our first Syndemic Roundtable comprised of 25 multidisciplinary professionals and stakeholders to respond to the opioid/HCV syndemic in San Diego during the winter of 2017. Roundtable participants showed enthusiasm and interest in educating politicians on the syndemic, and therefore convened a second roundtable in Washington, DC during the summer of 2018.
What is a Syndemic?
SYN (synergy) + DEMIC (suffix of epidemic, from the Greek word 'demos' meaning people)

Merrill Singer, a medical anthropologist introduced the concept of syndemics in the mid-1990s in his book Introduction to Syndemics: A critical systems approach to public and community health. In this book he coined the term 'syndemic' by combining two words to make a new meaning.
The Goal of the Roundtable:
The Caring Ambassadors Program set out to do the following:
1. Educate a multidisciplinary group of providers and advocates on the relationship between hepatitis C and the opioid epidemic
2. Strengthen health and community workers' ability to effectively advocate for equitable, integrated care for the substance use and hepatitis C community
3. Promote the integration of HCV services within existing systems to maximize the impact of HCV prevention, screening, and treatment among the most at-risk population
4. Develop and share compelling stories, representing diverse lived experiences, as a tool to destigmatize and demystify HCV and substance use
5. Create a unified, representative front to advance HCV elimination using the syndemic framework
6. Educate elected officials on HCV's impact and toll, the HCV/opioid syndemic, and how addressing HCV through policy can help combat the opioid epidemic
Syndemic Roundtable #1 San Diego, 2017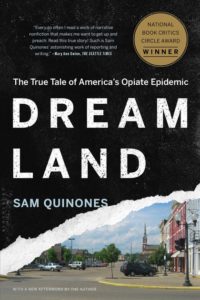 Our inspiration. The staff of Caring Ambassadors Program read Dreamland and immediately knew we needed to reach out to the author, Sam Quinones. Upon talking with Sam, Caring Ambassadors was motivated to bring different groups of people together to share knowledge, and perspective to discuss the syndemic in a roundtable setting. Thus began, The Syndemic Roundtable: Opioids & Hepatitis C.
Dreamland: The True Tale of America's Opiate Epidemic
"Addiction has devastated hundreds of cities, small towns, and suburbs across America. How that happened is the riveting story behind Dreamland."
Dreamland author Sam Quinones discusses his experiences at the first Syndemic Roundtable: Opioids & Hepatitis C in San Diego, CA in December 2017
Syndemic Roundtable #2 Washington, D.C, 2018
The participants of the first Roundtable in San Diego showed interest in educating their elected officials on the syndemic. Taking their feedback into consideration the Caring Ambassadors convened the second roundtable in Washington, DC during the summer of 2018.
Webinar Trainings
Presentations from May 17, 2018:
Presentations from May 18, 2018: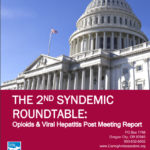 The Second Syndemic Roundtable Post Meeting Report
National Syndemic Coalition
As a part of the second meeting, participants identified key workgroups for a national syndemic coalition model:
Care and Treatment: Work around improvement, expansion of, access to, and systems integration.
Communications: Messaging and media efforts, priority areas, and communications strategies to educate, raise awareness, and combat stigma.
Policy: Keeping abreast of syndemic-related legislation, suggesting and/or organizing advocacy and lobbying opportunities, identifying policy gaps or policy opportunities to combat the syndemic.
Planning: Strategic planning for sustained growth of the coalition.
Data: Advancing data collection and surveillance efforts to highlight the syndemic's impact, developing relevant fact sheets and infographics on societal and fiscal impact.