The Caring Ambassadors Program uses a unique approach in our work to address the elimination of viral hepatitis and specifically hepatitis C.
Our three main methods to combat hepatitis C are to Empower patients and providers to increase their knowledge of hepatitis C to improve access a cure; to Educate systems and communities on how to integrate viral hepatitis services into existing programming; and to Advocate on behalf of patients and communities to create sound policy, funding and messaging. We are honored to serve the community to help eliminate the largest infectious disease outbreak of our time; we promise to be BOLD in our approach to creating paths to health and making hepatitis C history.

The CDC updated the adult hepatitis B vaccination recommendations!
On Monday, May 23, 2-3:30pm EST the Office of Infectious Disease and HIV/AIDS Policy (OIDP) will host a webinar on the federal implementation of these new guidelines. As part of the Viral Hepatitis National Strategic Plan, federal partners are working together to increase hepatitis B vaccination uptake in the United States. OIDP will be joined by a panel of federal leadership from across HHS to discuss how each agency plans to employ the new recommendations and encourage vaccination uptake.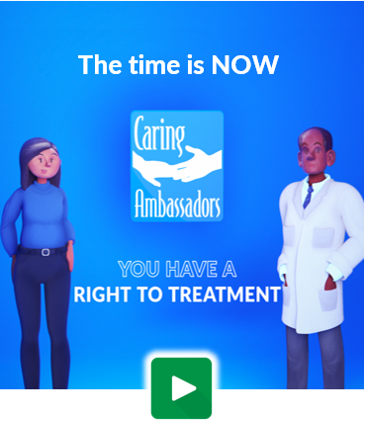 The time is now. 71 million people worldwide are living with chronic Hepatitis C right now. It is the largest chronic infectious disease outbreak of our time…and it's curable. Talk to your doctor about treatment for your Hepatitis C, and don't take no for an answer.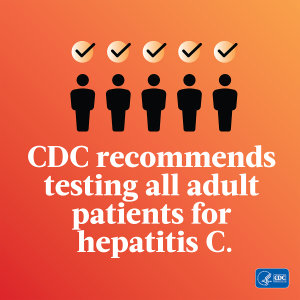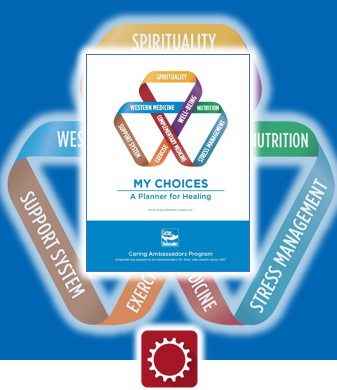 MY CHOICES© is a tool to help you recognize and act upon what you can control in your health care journey to achieve optimal healing, regardless of the illness you face. It contains elements of a guide book, health planner, journal, and activity book to help orient you to and plan for the journey ahead.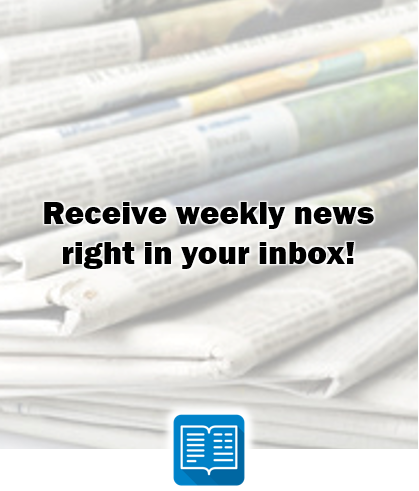 Weekly News Update.
Caring Ambassadors Program provides 3 weekly news updates covering Lung Cancer News, Hepatitis C News, and My Choices© Update. Receive them delivered weekly to your inbox.

Weekly News Update
Hepatitis C News
Week Ending May 23, 2022
Hepatitis Awareness Month: Help Your Patients Live(r) Longer
"May is Hepatitis Awareness Month, recognizing a disease that can be both acute or chronic as well as infectious and non-infectious. Hepatitis can have a widespread impact on the health and pharmaceutical needs of patients. It also carries a stigma that may make patients hesitant to seek treatment or disclose their condition."
The Opioid Epidemic and Hepatitis C Infections: What's the Connection?
"Hepatitis C (hep C) is a liver disorder caused by the bloodborne hepatitis C virus (HCV). Hep C can go undetected for years or even decades and may silently damage your liver, leading to serious health consequences."
Can You Pass On Hep C to Your Kids?
"Hepatitis C, or hep C, is a type of viral infection of the liver caused by the hepatitis C virus (aka, HCV). While some cases heal on their own, more than half of hep C cases can become chronic."
Department of Health announces hepatitis C elimination plan
"During Hepatitis Awareness Month, the Rhode Island Department of Health is raising awareness about hepatitis and encouraging all Rhode Island adults to get tested for hepatitis C at least once."
Hepatitis C Is Making a Comeback
"In the United States, hepatitis C seemed like one those diseases that might be hailed as a success story. Transfusions with unscreened blood products were a major source of infections before a test for the virus that causes the disease started being used in the 1990s. Afterward, infections from transfusions in the United States stopped occurring."
8 Steps to Take Before Starting Hepatitis C Treatment
"Hepatitis C (hep C) is a liver infection caused by the hepatitis C virus (HCV). If you were recently diagnosed with hep C, there are several ways you can contribute to the success of your treatment."
CDC to investigate whether adenovirus is 'incidental' in children with mysterious hepatitis
"Health officials will investigate whether the incidence of adenovirus in many children who are part of a mysterious hepatitis outbreak is "incidental," the U.S. Center for Disease Control said Friday."
My Choices© Update


Week Ending May 23, 2022
Exactly How Does Zinc Help the Immune System? Experts Explain
"Immunity is a complex process that relies on various nutrients—chief among them being zinc. Research shows that zinc plays a role in multiple aspects of your immune system.* But how, exactly, does zinc support your immunity and how do you know if you're getting enough? Let's dive in."
Exercise, Diet, and Weight Management During Cancer Treatment: ASCO Guideline
"A systematic review of the literature identified systematic reviews and randomized controlled trials evaluating the impact of aerobic and resistance exercise, specific diets and foods, and intentional weight loss and avoidance of weight gain in adults during cancer treatment, on quality of life, treatment toxicity, and cancer control."
Virtual workouts spiked during the pandemic — and the trend is sticking around
"At the height of the pandemic, when going to the gym wasn't an option, millions of people began exploring virtual workouts from home for the first time. And many of them now say they won't go back."
How timing your meals right can benefit your health
"Eating well doesn't necessarily just mean concentrating on the right diet – the time you eat (or don't) can also make a big difference to your wellbeing"
How To Embrace Longevity Nutrition, Based On A Comprehensive Study
"Sometimes a truly awesome compilation of scientific evidence in the field of nutrition is systematically examined by researchers, and as a nutrition scientist and dietitian, it makes me want to shake the author's hands and personally thank them."
Cancer-Related Fatigue Outcome Measures in Integrative Oncology: Evidence for Practice and Research Recommendations
"Cancer-related fatigue (CRF) is one of the most common symptoms across the cancer continuum and is often underreported and undertreated. Defined as a distressing, persistent, subjective sense of tiredness or exhaustion related to cancer or its treatment, CRF includes physical, emotional, cognitive, and spiritual dimensions."
How diet and gut bacteria may point to new treatments for depression
"Worldwide, some 280 million people, or 5% of the adult population, have depression. The World Health Organization has called it a "leading cause of disability worldwide." The currently available treatments such as antidepressants and behavioral therapies are effective for many people but are not suitable or available to all."
Use the arrows on the sides to scroll through content!