Caring Ambassadors understands we are living in complex times. Please take a moment and
Breathe
The Caring Ambassadors Program uses a unique approach in our work to address the elimination of viral hepatitis and specifically hepatitis C.
Our three main methods to combat hepatitis C are to Empower patients and providers to increase their knowledge of hepatitis C to improve access a cure; to Educate systems and communities on how to integrate viral hepatitis services into existing programming; and to Advocate on behalf of patients and communities to create sound policy, funding and messaging. We are honored to serve the community to help eliminate the largest infectious disease outbreak of our time; we promise to be BOLD in our approach to creating paths to health and making hepatitis C history.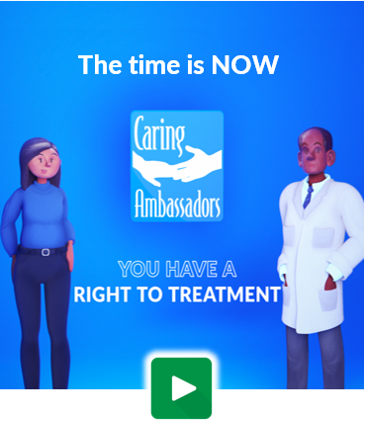 The time is now. 71 million people worldwide are living with chronic Hepatitis C right now. It is the largest chronic infectious disease outbreak of our time…and it's curable. Talk to your doctor about treatment for your Hepatitis C, and don't take no for an answer.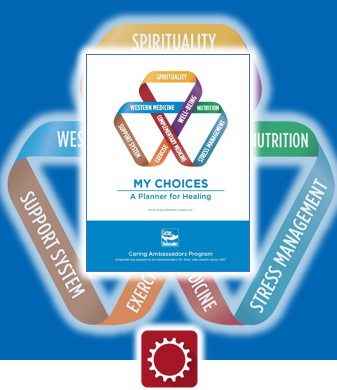 MY CHOICES© is a tool to help you recognize and act upon what you can control in your health care journey to achieve optimal healing, regardless of the illness you face. It contains elements of a guide book, health planner, journal, and activity book to help orient you to and plan for the journey ahead.
Order Educational Materials
Free brochures and materials
Order Educational Materials. Caring Ambassadors Program believes that knowledge is power. We strive to empower patients, systems and communities to increase their knowledge of hepatitis C in effort to eliminate the largest infectious disease outbreak of our time.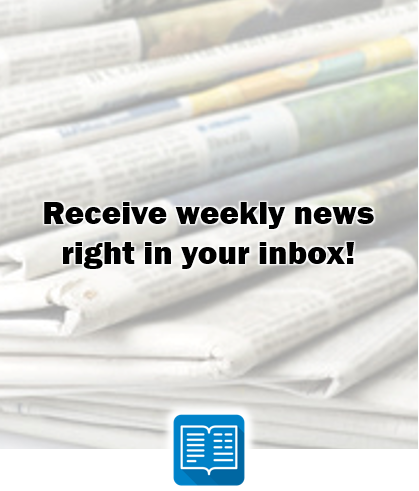 Weekly News Update.
Caring Ambassadors Program provides 3 weekly news updates covering Lung Cancer News, Hepatitis C News, and My Choices© Update. Receive them delivered weekly to your inbox.

Weekly News Update
Hepatitis C News
Week Ending December 6, 2021
'Origami' diagnostic test could help hepatitis C treatment
"A new test for hepatitis C which uses origami-style folded paper to deliver fast, accurate and affordable diagnoses could help the global fight against the deadly virus."
What to Know About Liver Disease and COVID-19
"If you're living with liver disease during the COVID-19 pandemic, you may have many questions about whether you are more susceptible to the disease, if it might be more severe, and how it might alter your current treatment."
FDA Approves 3-Antigen Hepatitis B Vaccine
"The US Food and Drug Administration (FDA) has approved the recombinant (PreHevbrio) hepatitis B virus (HBV) vaccine for the prevention of infections caused by all the known subtypes of HBV in adults 18 years and older."
Many young people with HCV remained untreated in 2019
"In 2019, only 32% of children and youth who had tested positive for hepatitis C in British Columbia, Canada, had initiated treatment, according to data presented at The Liver Meeting Digital Experience."
California Mandates That Hepatitis B and C Screenings Must Be Offered
"A new law in California requires health care facilities to offer adult clients free screenings for hepatitis B and hepatitis C, both of which cause inflammation of the liver and can lead to cancer, the need for a liver transplant and death. The law also requires that care and treatment be provided for those who test positive."
Rapid treatment model improves HCV care in injection drug users
"A simplified, rapid treatment model for hepatitis C virus improved cure rates and the cascade of care among young people who inject drugs, according to a recent study."
New York City Opens First Supervised Injection Sites in U.S.
"On November 30, New York City won the years-long race to open the first government-sanctioned supervised injection facilities in the United States. During their first few days in operation, staff at the two new sites have already reversed several drug overdoses."
My Choices© Update


Week Ending December 6, 2021
Nutrition protects against aging better than drugs
"A recent study by the University of Sydney Charles Perkins Centre compared the impact of diets and drugs on the functioning of human cells and aging. The researchers found that nutrition has a significantly higher influence on our metabolic health."
Get Up and Dance to the Music
"Are you feeling anxious? Stressed? Depressed? According to researchers at the Hong Kong Polytechnic Institute in China, you may be able to help yourself by following the lead of musicians Sly and the Family Stone and, more recently, will.i.am, who told us to "get up and dance to the music!"
A Thorough Guide To Holistic Treatment For Mental Health
"The thought of giving a speech in front of an audience makes you sick to your stomach. Do you choke back tears whenever you hear a kind remark from a close friend or family member? Surely you've experienced the agony of overthinking. A mind-body connection has the capacity to transform your life if you've had this experience. Thoughts, emotions, and physical health all have a role in one's overall well-being, whether or not we are aware of it."
Study confirms correlation between microbiome and glycemic response
"US scientists have shown for the first time that an individual's gut microbiome activity will influence their glycemic response to foods."
Health Benefits of Cayenne Pepper
"Looking to add a little spice to your life — or your diet? Cayenne pepper may be just what the doctor ordered. This popular red pepper adds versatile flavor to your meals and is chock-full of health benefits to boot."
Health benefits of cupping therapy
"Cupping therapy has been a key element of Chinese medicine for hundreds of years and has been seen in many other ancient cultures across the globe. It most recently came to the attention of a wider audience during the 2016 Olympics in Rio, when several athletes, like the swimmer Michael Phelps, were seen with a series of round purple bruises on their skin."
Anti-inflammatory food superstars for every season
"Berries and watermelon in the summer, kale and beets in the winter. The recipe for anti-inflammatory foods to enjoy can change with the seasons. Your heart, your brain, and even your joints can benefit from a steady diet of these nutritious foods, and scientists think that their effects on inflammation may be one reason why."
How 11 Minutes of Exercise Can Help You Live Longer
"It's no secret that exercise is key to a healthier and longer life. As you have likely heard, federal guidelines recommend at least 150 minutes of moderate aerobic activity every week. Think: five days of 30-minute workouts like brisk walking, dancing or cycling. The guidelines also call for at least two sessions of strength training per week."
Is It Normal To Wake Up Tired? We Asked A Sleep Specialist
"We all have those mornings once in a while when we're just not as energized as we'd like to be. It happens to the best of us, but is it normal? To find out what's really going on when you wake up tired, we spoke with Michael J. Breus, Ph.D., a board-certified sleep specialist. Here's what he had to say."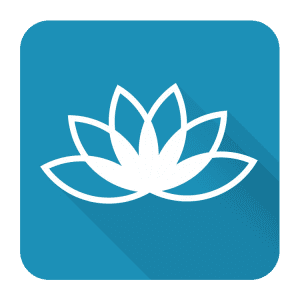 Qigong.
"Qigong is quite literally "Moving Meditation". As with all meditation practices, Qigong has an incredibly calming effect on the central nervous system. As the mind, breath, and body are connected to the moment, the parasympathetic nervous system is engaged and the brain releases all sorts of feel-good hormones, such as serotonin and dopamine."
https://theecohub.ca/5-healing-benefits-of-qigong/
Try session 3 of Qigong with Sifu Larry Wong
Use the arrows on the sides to scroll through content!