The Caring Ambassadors Program uses a unique approach in our work to address the elimination of viral hepatitis and specifically hepatitis C.
Our three main methods to combat hepatitis C are to Empower patients and providers to increase their knowledge of hepatitis C to improve access a cure; to Educate systems and communities on how to integrate viral hepatitis services into existing programming; and to Advocate on behalf of patients and communities to create sound policy, funding and messaging. We are honored to serve the community to help eliminate the largest infectious disease outbreak of our time; we promise to be BOLD in our approach to creating paths to health and making hepatitis C history.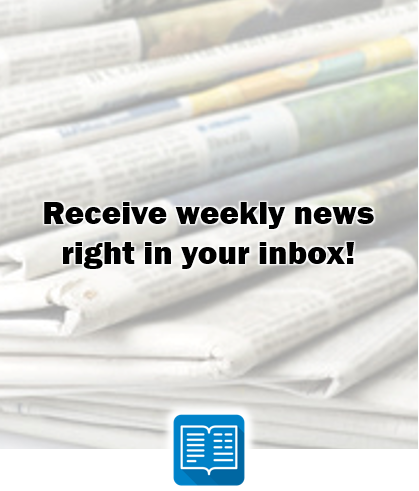 Weekly News Update.
Caring Ambassadors Program provides 3 weekly news updates covering Lung Cancer News, Hepatitis C News, and My Choices© Update. Receive them delivered weekly to your inbox.

Weekly News Update
Hepatitis C News Update
Week Ending December 4, 2023
Earlier Testing of Infants With Perinatal Hepatitis C Exposure: A Key Step Toward Elimination
"Hepatitis C virus (HCV) infection continues to be a major national public health problem and is targeted for domestic and global elimination. Driven by the ongoing opioid epidemic, HCV incidence has been rising in the United States over the past decade, with highest infection rates among young adults including women of childbearing age. This is significant because if these young adults with HCV viremia get pregnant, their infants are perinatally exposed to the virus. In 2020, as part of a strategy to increase testing of all adults, the Centers for Disease Control and Prevention (CDC) recommended universal HCV antibody screening with every pregnancy, a critical first step to improve maternal health and enhance identification of infants at risk for HCV."
No increased risk for COVID-19 related mortality associated with HCV alone
"BOSTON — In the absence of cirrhosis, no specific precautions are needed for patients with SARS-CoV-2 infection and a history of hepatitis C virus, according to findings presented at The Liver Meeting."
Sofosbuvir/velpatasvir with tenofovir alafenamide efficacious for HCV, HBV co-infection
"BOSTON — After 12 weeks of treatment with sofosbuvir/velpatasvir in combination with tenofovir alafenamide, patients with hepatitis C virus and hepatitis B virus co-infection demonstrated high rates of sustained virologic response. Moreover, patients did not experience reactivation of HBV DNA during the treatment period, according to data presented at The Liver Meeting."
New Model Uses Longitudinal Data to Predict HCC Risk in Patients with HCV-Related Cirrhosis           
"A recently developed longitudinal model for predicting hepatocellular carcinoma (HCC) risk after sustained virologic response (SVR) using repeatedly measured data in a random survival forest (RSF) algorithm yielded accurate predictions and outperformed a baseline model."
Two-Week DAA Prophylaxis Prevents Hep C After Kidney Transplant
"TUESDAY, Nov. 28, 2023 (HealthDay News) — Two-week direct-acting antiviral (DAA) prophylaxis prevents hepatitis C virus (HCV) infection in individuals without HCV viremia who received kidney transplant (KT) from donors with HCV viremia (HCV D+/R−), according to a study published online Nov. 28 in the Annals of Internal Medicine."
Editorial: Louisiana leading the way for once. Can U.S. follow the model?
"Louisiana is hardly leading the nation in an arena of vital importance to every human, health care. But a Louisiana innovation is now being pushed by the White House as a way to tackle the dread disease of hepatitis C."
Free hepatitis C, HIV and syphilis testing for the month of December
"Southeastern Idaho Public Health will be offering free rapid hepatitis C, HIV and syphilis testing to individuals throughout the month of December in all their county locations. Testing only takes a few minutes and you can get results before you leave. Visit siphidaho.org to locate a clinic near you. Same-day appointments are available. There is only one way to know — get tested."
Videos:
Curing your Patients from Hepatitis C: Addressing Complex Needs with Simplified Treatment Approaches : Episode 4
Baseline Lab Test to initiate HCV treatment
My Choices© News Update

Week Ending December 5, 2023
Out for blood? For routine lab work, the hospital billed her $2,400
"Reesha Ahmed was on cloud nine. It was January and Ahmed was at an OB-GYN's office near her home in Venus, Texas, for her first prenatal checkup. After an ultrasound, getting anti-nausea medication, and discussing her pregnancy care plan, she said, a nurse made a convenient suggestion: Head to the lab just down the hall for a standard panel of tests."
Why You Shouldn't Self-Treat With 'Natural Antibiotics'
"When you start to feel the itch in your nose or the scratch in your throat that tells you you're in the early stages of a cold or sinus infection, people tend to fall into one of three camps. One group tries to ignore it and hopes it clears up on its own. The second runs to the doctor for some quick relief. And then there's the third group: The ones who rummage through their medicine cabinet or hit up their local pharmacy or health store looking for a DIY solution."
Vegan diet outperforms omnivorous in cardiometabolic health, twin study reveals
"In a recent study published in the journal JAMA Network Open, researchers in the United States compared the cardiometabolic impact of vegan diets versus omnivorous diets after eight weeks of intervention among adult identical twins."
How dietary restrictions, including intermittent fasting, impact gut microbiota and overall human health
"In a recent review published in Nutrients, researchers reviewed preclinical and clinical data to analyze gut microbial alterations in various dietary conditions."
Life Beyond Anorexia Nervosa
"By age 10, it was clear that Kristina Saffran would have a bright future. She was intelligent, outgoing, and active in soccer. Then, a routine conversation derailed her life."
Diet has a major impact on risk of Alzheimer's disease
"December 4, 2023 San Francisco, CA: In a detailed study, Diet's Role in Modifying Risk of Alzheimer's Disease: History and Present Understanding published in the Journal of Alzheimer's Disease, we can finally see which diets are helpful in reducing the risk of developing Alzheimer's disease. The role of diet in modifying the risk of Alzheimer's disease is discussed in detail. Diets that are more plant based, like the Mediterranean diet and traditional diets in China, Japan, and India, are shown to reduce risk, especially when compared to the Western diet."
Sleep problems linked to heart health risks during and after menopause
"How well a woman sleeps – not just how long – as she transitions through menopause may affect her projected risk for heart disease and stroke, new research suggests. The study found women who were peri- and postmenopausal who experienced a range of sleep disturbances scored worse on key measures of cardiovascular health than their premenopausal peers. The findings were presented in November at the American Heart Association's Scientific Sessions conference in Philadelphia and are considered preliminary until full results are published in a peer-reviewed journal."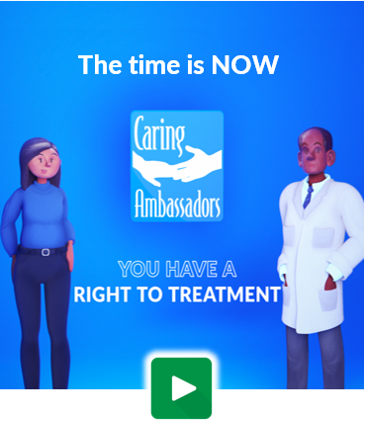 The time is now. 71 million people worldwide are living with chronic Hepatitis C right now. It is the largest chronic infectious disease outbreak of our time…and it's curable. Talk to your doctor about treatment for your Hepatitis C, and don't take no for an answer.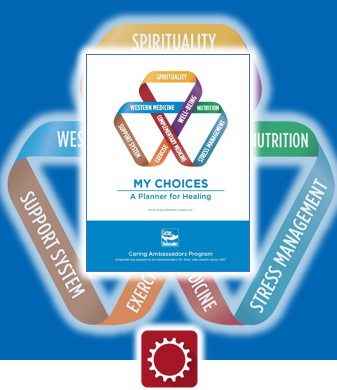 MY CHOICES© is a tool to help you recognize and act upon what you can control in your health care journey to achieve optimal healing, regardless of the illness you face. It contains elements of a guide book, health planner, journal, and activity book to help orient you to and plan for the journey ahead.