The Caring Ambassadors Program uses a unique approach in our work to address the elimination of viral hepatitis and specifically hepatitis C.
Our three main methods to combat hepatitis C are to Empower patients and providers to increase their knowledge of hepatitis C to improve access a cure; to Educate systems and communities on how to integrate viral hepatitis services into existing programming; and to Advocate on behalf of patients and communities to create sound policy, funding and messaging. We are honored to serve the community to help eliminate the largest infectious disease outbreak of our time; we promise to be BOLD in our approach to creating paths to health and making hepatitis C history.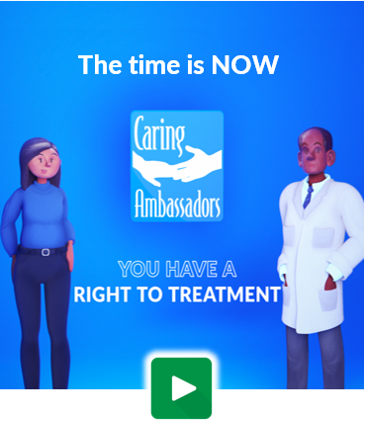 The time is now. 71 million people worldwide are living with chronic Hepatitis C right now. It is the largest chronic infectious disease outbreak of our time…and it's curable. Talk to your doctor about treatment for your Hepatitis C, and don't take no for an answer.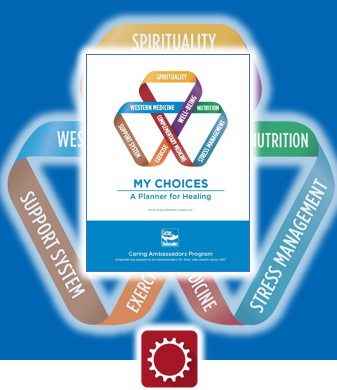 MY CHOICES© is a tool to help you recognize and act upon what you can control in your health care journey to achieve optimal healing, regardless of the illness you face. It contains elements of a guide book, health planner, journal, and activity book to help orient you to and plan for the journey ahead.
Order Educational Materials
Free brochures and materials
Order Educational Materials. Caring Ambassadors Program believes that knowledge is power. We strive to empower patients, systems and communities to increase their knowledge of hepatitis C in effort to eliminate the largest infectious disease outbreak of our time.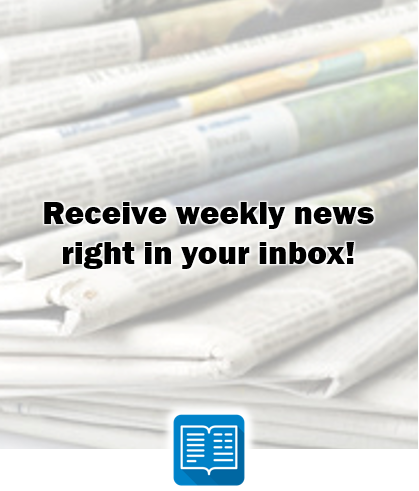 Weekly News Update.
Caring Ambassadors Program provides 3 weekly news updates covering Lung Cancer News, Hepatitis C News, and My Choices© Update. Receive them delivered weekly to your inbox.

Weekly News Update
Hepatitis C News
Week Ending January 18, 2022
"Hep ElimiNATION" to Assess and Guide U.S. Efforts to End Hepatitis
"In January 2021, the Department of Health and Human Services (HHS) released the Viral Hepatitis National Strategic Plan for the United States: A Roadmap to Elimination 2021–2025, which spelled out five main goals for the next five years. So did the United States make any progress last year? How can we gauge whether we're on track to end viral hepatitis? A new partnership between researchers and advocates titled Hep ElimiNATION aims to assess exactly that as well as offer guidance."
Starting Hepatitis C Treatment at Time of Diagnosis Leads to High Cure Rate
"People with hepatitis C who start direct-acting antiviral treatment when and where they are diagnosed had a high likelihood of achieving a cure, according to study results presented at the 2021 AASLD Liver Meeting. By eliminating the need to navigate the medical system, this model could be a good option for marginalized populations, including people experiencing homelessness and people who inject drugs."
Animation Aims to Educate on Hepatitis C
"Test!Treat!Cure! features infectious disease physician Dr. MarkAlain Déry and community health expert Dr. Eric Griggs in a 2Tone musical animation. The video uses the upbeat sounds of ska to educate viewers on reducing risks of liver cancer by testing for hepatitis C."
Racial, ethnic disparities in patients with HCC reveal need to reduce barriers to care
"Among patients newly diagnosed with hepatocellular carcinoma, there are significant racial and ethnic differences in barriers to care, according to survey results published in Clinical Gastroenterology and Hepatology."
A minimal monitoring approach for the treatment of hepatitis C virus infection (ACTG A5360 [MINMON]): a phase 4, open-label, single-arm trial
"Despite widespread availability of direct-acting antivirals including generic formulations, limited progress has been made in the global adoption of hepatitis C virus (HCV) treatment. Barriers to treatment scale-up include availability and access to diagnostic and monitoring tests, health-care infrastructure, and requirement for frequent visits during treatment."
Long-Term Prescription Opioid Use Linked to Higher Risk of Hepatitis C
"Prescription opioid use is associated with a significant risk of hepatitis C virus (HCV) seroconversion, according to new research. A team, led by James Wilton, MPH, British Columbia Centre for Disease Control, assessed the link between medically dispensed long-term prescription opioid therapy for noncancer pain and HCV seroconversion among individuals who were initially injection drug use-naïve."
Can Non-Invasive Medical Devices Help Halt Liver Disease?
"A silent liver disease epidemic is sweeping the country and the world through a rise in chronic liver diseases, such as non-alcoholic fatty liver disease (NAFLD) and its more severe form non-alcoholic steatohepatitis (NASH). NASH can lead to advanced fibrosis and liver cancer, liver transplantation, and increased risk of cardiovascular events and all-cause mortality, while NAFLD is one of the most common causes of liver disease in the United States. Experts state that about 24% of U.S. adults have NAFLD and about 1.5% to 6.5% of U.S. adults have NASH."
Integrating Predictive Models Into Care: Facilitating Informed Decision-Making and Communicating Equity Issues
"As predictive models proliferate, providers and decision makers require accessible information to guide their use. Preventing and combating bias must also be priorities in model development and in communication with providers and decision makers."
My Choices© Update


Week Ending January 18, 2022
Licorice And Slippery Elm Tea Are Best For A Sore Throat
"Although you can get a cold throughout the year, most people have a higher risk of the common cold in the winter and spring months.1 One of the most common symptoms is a sore throat. The Guardian characterizes the common cold as having "the twin distinction of being both the world's most widespread infectious disease and one of the most elusive."2"
Eat Better to Sleep Better: The Surprising Connection (Both Positive and Negative) Between Diet and Sleep, Backed by Considerable Science
"Research shows sleep and food are inextricably intertwined: If you don't get enough sleep, your diet suffers. And vice versa."
How To Jump The 6 Biggest Hurdles Of New Fitness Goals
"Beginning a fitness journey is pretty easy: You invest in some workout gear, you sign up for a program or a gym, you do a workout or two. Continuing on that path is the tricky bit—but the good news is there are plenty of strategies to help you succeed."
What to know about holy basil
"Holy basil is an herb from the basil family. It has several possible health benefits and is significant in some forms of traditional medicine."
A Way Out of Seasonal Depression
"There is a reason why so many holidays occur during the fall and winter months. For many, these light-filled festivities serve as a symbol of hope, something to look forward to when darkening days threaten to bring a bout of seasonal depression."
More Olive Oil May Bring Longer Life
"Folks who consume more than 1/2 a tablespoon of olive oil a day are less likely to die from heart disease, cancer, neurodegenerative diseases like Alzheimer's or lung disease when compared to people who consume less of this healthy fat, a new study finds."
Scientists Work Out How Exercise Saves Your Brain
"Exercise helps you stay fit, hale and hearty, and researchers say it may also help you stave off dementia and Alzheimer's disease. Now they have a better understanding of the hidden benefits that aid the brain."
The benefits of Acupuncture
"Many people are turning to other ways to reduce stress in their lives. West Knox Acupuncture and Integrative Medicine offer many services to decrease pain emotionally and physically. One of which is acupuncture, a practice that has been used for thousands of years."
The Last Word: Do You Really Need to Take 10,000 Steps a Day?
"The goal of reaching 10,000 steps per day has inspired countless movement challenges and remains the default setting on many fitness trackers. Maybe hitting that step goal, which is equivalent to about 5 miles, is part of your own wellness routine."
What Is Integrative Therapy?
"Integrative therapy is a theoretical school of thought in the field of psychology that helps to shape the approaches some psychologists, therapists, and other mental health professionals use in practice. It is also referred to as integrative psychotherapy or psychotherapy integration.1"
Vitamin D supplements, heart health, and cancer risk
"Vitamin D helps the body absorb calcium, which improves bone strength. Among other roles, it also contributes to the functioning of muscles, nerves, and the immune system."
Making This Food Swap Could Lengthen Your Life, New Study Suggests
"There are lots of benefits to cutting back on meat in favor of eating more plant-based products. Doing so could protect your brain, help your skin, and boost your energy levels. Now, new research suggests that swapping out the calories you get from animal-based proteins for the same amount from plant-based proteins could help you live longer and lower your risk of dying from heart disease."
6 Things To Know When Selecting a Complementary Health Practitioner
"If you're looking for a complementary health practitioner to help treat a medical problem, it is important to be as careful and thorough in your search as you are when looking for conventional care."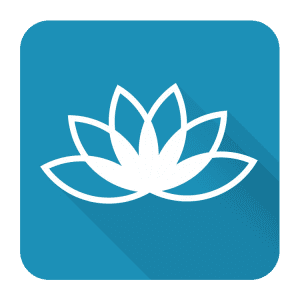 Qigong.
"Qigong is quite literally "Moving Meditation". As with all meditation practices, Qigong has an incredibly calming effect on the central nervous system. As the mind, breath, and body are connected to the moment, the parasympathetic nervous system is engaged and the brain releases all sorts of feel-good hormones, such as serotonin and dopamine."
https://theecohub.ca/5-healing-benefits-of-qigong/
Try session 3 of Qigong with Sifu Larry Wong
Use the arrows on the sides to scroll through content!